Jyoti Saxena Celebrates Navratri By Offering Kanya Bhojan Along With Maha Havan At Her Humble Abode- Check Picks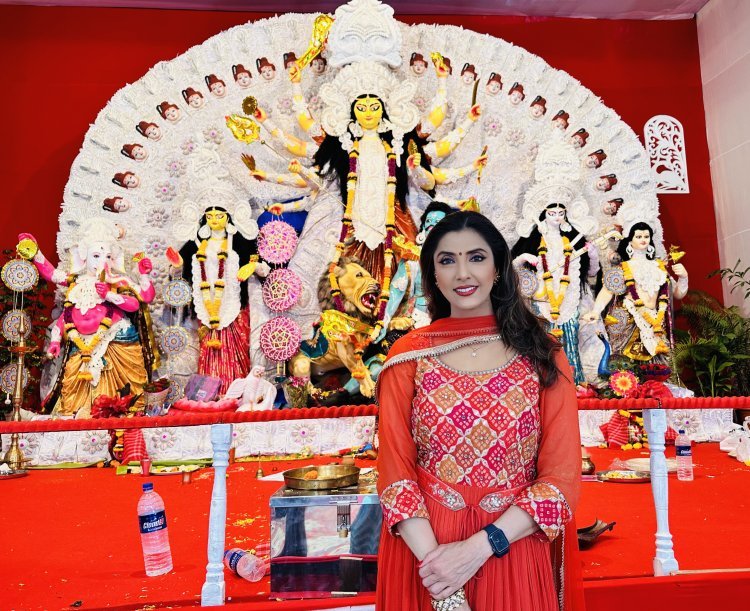 Jyoti Saxena Celebrates Navratri By Offering Kanya Bhojan Along With Maha Havan At Her Humble Abode- Check Picks
This ten-day festival is a time for prayer, fasting, feasting, and a deep connection with the divine. For Jyoti Saxena, it's a time to seek blessings from the goddess and participate in meaningful rituals that hold a special place in her heart, and like every year, this time too Bollywood actress Jyoti Saxena celebrated the festival of Navratri with pomp. Jyoti Saxena is a very spiritual person and never fails to forget her tradition and norms since the actress performs a 9-day-long fast along with Kanya Pujan.
Jyoti Saxena also took to her social media and shared a few pictures of herself visiting the local Pandals to seek blessings of Maa Durga and performing a Kanya Bhojan is one of the longest ancestor traditions that has been followed in her house, which Jyoti says, "Kanya Bhojan which is also called as Kanaki is performed in my house every year since so long, We do the Maha Havan at home, and then seek blessings of Kanya by washing their feet, and offering them delicious self-made home cooked, Poori, Chana Sabji and Halwa. And also offer them gifts. It's a way of showing respect and gratitude for the divine feminine energy that's all around us. It was a humbling experience to see their smiles and accept their blessings in return."
Talking about visiting Pandals and seeking blessings Jyoti says, "Visiting the pandals to seek the blessings of Maa Durga is one of the most devotional and peaceful things for me. The atmosphere is charged with spiritual energy, and it's an experience that's hard to put into words. Being in the presence of the divine and surrounded by the faith of so many people is truly uplifting."
https://www.instagram.com/p/CysTCTyomwp/?img_index=1
Jyoti Saxena's actions and words exemplify the deep spiritual connection she shares with the festival and the values it represents. May Maa Durga bless us immensely, and may this festival fill our lives with joy, peace, and prosperity.