Shobha Arya's WOW ICONIC & SPIRITUAL AWARDS 2023 event concludes successfully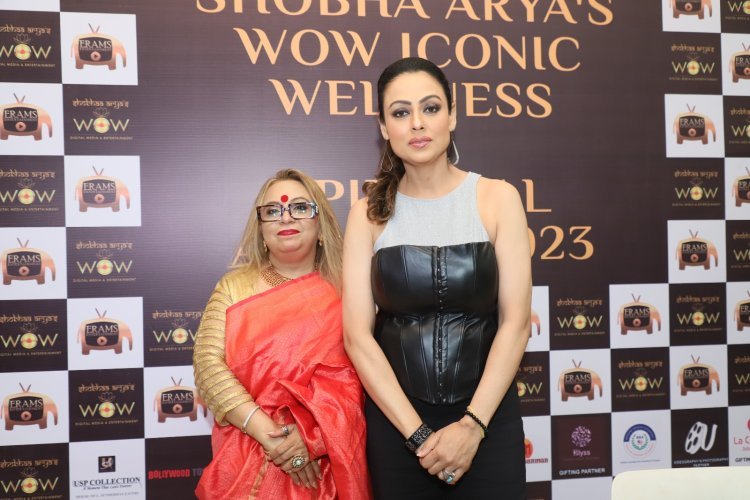 Shobha Arya's WOW ICONIC & SPIRITUAL AWARDS 2023 event concludes successfully
Mumbai, India - The highly anticipated Shobha Arya's WOW ICONIC & SPIRITUAL AWARDS 2023, took place in Mumbai later this year at Dadar with people from India and internationally being awarded in categories like meditation, mindfulness, alternative therapies and sustainable living.
The event witnessed attendance from people of different walks of life like Corporates, Celebrities and Indians from various diaspora like Celebrity Author and Columnist Nisha JamVal, Actors Gouri Tonnk and Jasvir Kaur; Corporate Wellness Leader Amit Vasistha(GALF), Anuradha Pal, Kashish Rajput, Arjumman Mughal, Sangeeta Babani, Nikita Rawal,
Mamta Saxena, Prachi Sarkar, Indira Krishnan, Farman Haider, Adish Vaidya,
Yogesh Gosain, Vansan Bali, Rohan Sharma, Vinayak Joshi, Sameer Arora amongst others…
The event saw a beautiful theme act specially choreographed and presented by Sandeep Soparrkar and his troupe.
Event had Khaleej Times as Partner - one of the leading newspapers in the Middle East, collaborating with Shobha Arya to soon bring the WOW Awards to the Middle East region.
The WOW ICONIC & SPIRITUAL AWARDS is a prestigious event thato recognizes and celebrates the achievements of outstanding individuals in various fields, including business, sports, entertainment, and spirituality.
Shobha Arya, the founder of the WOW Awards, expressed her excitement saying, "WOW Awards have been showcasing the exceptional talents of people from different fields and the fact that it has been receiving overwhelming response for 14 years now, gives us motivation to continue organising it."
Shobha Arya thanked the team of bubble communication who take care of the Media and Celebrity duties and the association took the event to another level.
The WOW ICONIC & SPIRITUAL AWARDS 2023 once again, became a memorable event, with an array of distinguished guests and exceptional performances.