Fans In Tears, after watching Song 'Jeena Zaroori Hai' Says "We Miss You Sidharth!"
  The Entertainment Industry is recuperating, from the challenges faced the year before. The music Business too is stretching longitudinally. Throughout the while, Romantic music videos have unveiled numerous tales of love in all its shades. Suresh Bhanushali and Photofit Music comprehend with yet another engaging romantic song "Jeena Zaroori Hai ". This song will […]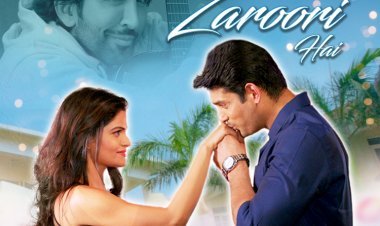 Fans In Tears, after watching Song 'Jeena Zaroori Hai' Says "We Miss You Sidharth!"
The Entertainment Industry is recuperating, from the challenges faced the year before. The music Business too is stretching longitudinally. Throughout the while, Romantic music videos have unveiled numerous tales of love in all its shades. Suresh Bhanushali and Photofit Music comprehend with yet another engaging romantic song "Jeena Zaroori Hai ". This song will steal your heart as it's a special song created in a whole-hearted Tribute to Siddharth Shukla by Vishal Kotian and Photofit Music.
The song was released under the label Photofit Music, so far the music video has received a mixed reaction from the fans. The song by Suresh Bhanushali and Photofit Music has left the audience filled with emotions for the legendary actor Sidharth Shukla, seen in the music video with Vishal Kotian and Deepika Tripathy.
The buzz for Jeena Zaroori Hai is indeed on hit in the industry with various people expressing their individual opinion on the release. Vishal Kotian says, "Every actor's work should be released, and I am sure that Sidharth's fan indeed wishes to see the star and his work". The topic now trends, and fans leave out their emotions for this song Jeena Zaroori Hai, released By Photofit Music.
This song has been shot in delightful spots of Odisha with Late Siddharth Shukla, popular ex-big boss contestant Vishal Kotain, and ravishing Dipika Tripathy. This song speaks about a divine love tale and brotherhood, beautifully illustrated by singer Shabab Shabri. The enduring passion for one another never deferred between the couple. Jeena Zaroori Hai doubtlessly struck a chord with Siddharth's fans unquestionably.
Jeena Zaroori Hai is a magical, beguiling story moving at specific points also captivating, and stacked with suspense and twists. This song truly characterizes love as eternal and lasts for a lifetime. The cast of the song draws out the emotional aspect of love which can be felt very deeply. A star in our memories, Siddharth Shukla, the ex-Big Boss contestant, and winner, with famous Vishal Kotian who was part of the current Big Boss season and prominently known for his character as "Birbal", has extremely extraordinary and solid bond since their struggle days and have been screened as brothers in Jeena Zaroori Hai.
Suresh Bhanushali and Photofit Music have already effectively made a buzz in the majority about Late Actor Siddharth Shukla's song "Jeena Zaroori Hai" which has evoked millions of hearts already.